Album Review: Taylor Swift's "folklore"
On July 24, 2020, Taylor Swift surprised fans everywhere with the release of her brand new album titled "folklore."
She released the news on an Instagram post, saying "Most of the things I had planned this summer didn't end up happening, but there is something I hadn't planned on that DID happen. And that thing is my 8th studio album, folklore. Surprise 🤗 Tonight at midnight I'll be releasing my entire brand new album of songs I've poured all of my whims, dreams, fears, and musings into. I wrote and recorded this music in isolation but got to collaborate with some musical heroes of mine; @aarondessner (who has co-written or produced 11 of the 16 songs), @boniver (who co-wrote and was kind enough to sing on one with me), William Bowery (who co-wrote two with me) and @jackantonoff (who is basically musical family at this point)."
Folklore is the eighth album released by Swift, following the release of "Lover" by a little less than a year, " which was released on August 23, 2019.  
While all of Swift's previous albums had a lot of marketing before their releases, "folklore" was different. Swift added that "Before this year I probably would've overthought when to release this music at the 'perfect' time, but the times we're living in keep reminding me that nothing is guaranteed. My gut is telling me that if you make something you love, you should just put it out into the world. That's the side of uncertainty I can get on board with. Love you guys so much."
"Folklore" has generated mixed responses, but the general consensus seems to be the album has made its place among Swift's many staples. In fact, the album "opened at No. 1 on Billboard's latest album chart with a whopping 846,000 sales in the United States, according to Nielsen Music. That's the third-highest weekly total for any album in four years, beaten only by Swift's last two albums: "Reputation" (1.2 million in 2017) and "Lover" (867,000 a year ago)," according to The New York Times.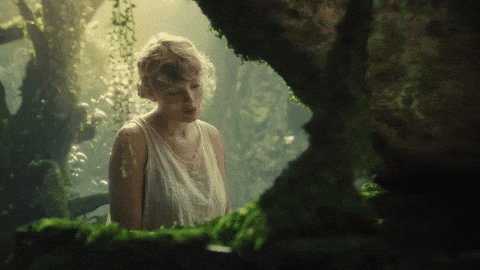 Obviously a Taylor Swift fan myself, I had to hear the album immediately. After listening to it on repeat for days on end, here is my review on the album:
1. the 1
Starting the album is Swift's song "the 1."  The song is the perfect opener to the album, starting off with the line "I'm doing good / I'm on some new shit" However, despite the opening line, the singer reflects back on lost love and what ifs, making the lister to reminisce on that one special  person who you used to imagine ending up with.
Best Line: And if wishes came true / then it would've been you
2. cardigan
Honestly, this song will make you want to dance around your room, reminiscing on young romance and lost love.

Best Line: You drew stars around my scars / But now I'm bleedin'
3. the last great american dynasty
This song is for all the history buffs out there. It's based on real-life Rebekah Harkness who, shockingly enough, used to live in Swift's Rhode Island mansion, according to Glamour magazine.

It's probably the most upbeat song on the album, and I am 100% here for it.

Best Line: There goes the last great American dynasty / Who knows, if she never showed up, what could've been
4. exile (ft. Bon Iver)
Bon Iver's smooth voice mixed with Swift's creates a gorgeous, tragic song from two perspectives–both dealing with lost love. 

Best Line: Second, third, and hundredth chances / Balancin' on breaking branches / Those eyes add insult to injury
5. my tears ricochet
Honestly, if I could include the whole song under best line, I would. Make sure you have a box of tissues for this one.

Best Line: I didn't have it in myself to go with grace / And you're the hero flying around, saving face / And if I'm dead to you, why are you at the wake? / Cursing my name, wishing I stayed / Look at how my tears ricochet

6. mirrorball
Swift's fans have deemed this song a must-listen, easily becoming a favorite among listeners.

Best Line: I'm a mirrorball / And I'll show you every version of yourself tonight
7. seven
Swift's song "seven" takes you back to your childhood days where everything seemed possible. There's a darker side to the lyrics too, where the speaker tells her friend that her house must be haunted because her dad is always mad, trying to understand what's going on thorough her childlike innocence.

Best Line: Passed down like folk songs / The love lasts so long
8. august
Despite the song's upbeat tune, the lyrics are sure to bring you back to memories of lost love (a common theme throughout the album). This is another one of my favorites on the album, and honestly the perfect song—and Instagram caption—for this month.

Best Line: August sipped away like a bottle of wine / 'Cause you were never mine
9. this is me trying
A complete turn around melody-wise from the previous track, "this is me trying" is a vulnerable, heart-breaking song.

Best Line: And it's hard to be at a party when I feel like an open wound / It's hard to be anywhere these days when all I want is you

10. illicit affairs
Swift wrote this song from the point-of-view of the other woman, showing how difficult it is to be involved in, as the title says, an illicit affair. She paints a heartbreaking scene, full of anger and sadness while also creating a space for empathy.

Best Line: Leave the perfume on the shelf / That you picked out just for him / So you leave no trace behind / Like you don't even exist
11. invisible string
Definitely the happiest of Swift's songs in the album, "invisible string" is a song about finding your way to the person you're ultimately supposed to be with.

Best Line: And isn't it just so pretty to think / All along there was some / Invisible string / Tying you to me?
12. mad woman
Swift twists the idea of a mad woman in this track, showing how, most of the time, a "crazy"— or, better yet, "mad"—woman doesn't get that way out of nowhere.

Best Line: And you'll poke that bear 'til her claws come out / And you find something to wrap your noose around / And there's nothing like a mad woman
13. epiphany
A song for the current times, "epiphany" is a beautiful, sad song about hardship.

"These lines are some of many parallels that the song draws between soldiers on the battlefield and healthcare workers during the COVID-19 pandemic crisis," according to Genius.

Best Line: Only twenty minutes to sleep / But you dream of some epiphany / Just one single glimpse of relief / To make some sense of what you've seen
14. betty
One of the more up-beat tracks, this song features three characters: James, Betty and Inez. It's a song about young, dumb love, mistakes and forgiveness.

Best Line: I'm only seventeen, I don't know anything / But I know I miss you
15. peace
Despite the title, this song is about a lack of peace–perhaps it could be a call to Swift's current and past lovers?

Best Line: But I'm a fire and I'll keep your brittle heart warm / If your cascade, ocean wave blues come / All these people think love's for show / But I would die for you in secret
16. hoax
One of my personal favorites, "hoax" is about that one person you fell for that really hurt you. Swift shows a broken kind of love, the one that leaves you off worse than you were before. 

Best Line: Stood on the cliffside screaming, "Give me a reason" / Your faithless love's the only hoax I believe in
17. Bonus Track: the lakes
Only available on folklore's deluxe tracks, "the lakes" is about a fantasy-like world—one that the speaker aches to go to and just be with her lover.

Best Line: Take me to the Lakes where all the poets went to die / I don't belong and, my beloved, neither do you

"Folklore" is different than pop-singer Taylor Swift's previous three albums; instead, Swift seems to go back to her country days with "folklore." 
This album is definitely not full of up-beat pop songs full of metaphorical sunshine and daisies, but it's definitely one that'll make you feel. These tracks are perfect to listen to on a rainy day while snuggled in many blankets with a pumpkin spice latte and, perhaps, a cardigan.